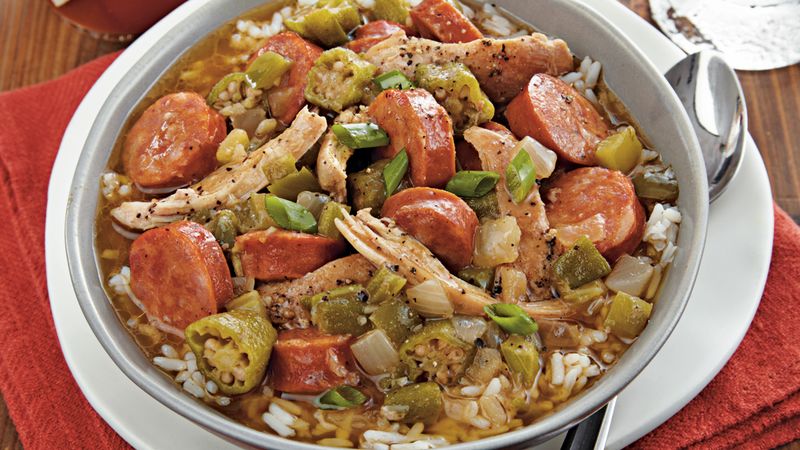 INGREDIENTS
2 pounds chicken thighs, skin removed
2 teaspoons Cajun seasoning
¼ cup vegetable oil, divided
1 pound Andouille sausage, cut into ¼"-thick slices
3 tablespoons flour
2 medium red bell peppers, seeds and membrane removed, then coarsely chopped
1 very large yellow onion, coarsely chopped
2 tablespoons water
2 cloves garlic, finely minced
1 28-ounce can crushed tomato
1 28-ounce can petite diced tomatoes
2 cups chicken broth
1 tablespoon (heaping) gumbo filé seasoning
¼ teaspoon cayenne
2 bay leaves
⅓ cup long grain rice, uncooked
1 16-ounce bag frozen cut okra
salt and pepper to taste
Tabasco®, optional
1. Wash and pat dry the chicken thighs. Sprinkle with the Cajun seasoning. Set aside.
2. Place the pressure cooker on a level surface, insert the pressure pan, and plug in the unit.
3. Set Cook Time for 25 minutes and press Start.
4. Add 3 tablespoons of the oil to the pan. Add the sausage and cook for 5 minutes or until well browned.
Remove and drain on paper towels.
5. Cook the chicken in batches to prevent overcrowding, 3 minutes per side or until brown. Drain on
paper towels with the sausage until needed.
6. Add the remaining oil along with the flour to the pan and cook for 4–5 minutes or until the mixture is
dark brown.
7. In the meantime, place the peppers and onion into a microwave-safe dish with 2 tablespoons of water,
cover loosely with a damp paper towel, and microwave for 3 minutes. Carefully remove from
microwave and stir into the browned flour until coated.
8. Add the garlic, both cans of tomatoes, chicken broth, filé, cayenne, and bay leaves. Stir well and then
add the sausage and chicken back into the mixture.
9. Attach the lid and set the exhaust valve to Air Tight (closed).
10. While gumbo is under pressure, cook long grain rice separately, according to package directions, and
set aside (you should end up with about 4 cups cooked rice).
11. When the cooking time has elapsed in the pressure cooker, unplug and let rest for 5 minutes. Place a
paper towel over the vent and release the remaining pressure.
12. Carefully open the lid and stir in the okra, along with salt and pepper. Set the Cook Time for 4
minutes, reattach lid, and return valve to the closed position. Press Start.
13. When the cooking time has elapsed, let the pressure release naturally for about 10 minutes. When it is
safe to open the lid, use tongs and remove the chicken to a cutting board, close the cooker lid, with the
valve open, and let simmer on Keep Warm.
14. Using tongs, remove the chicken from the pot. When it is cool enough to handle, remove the meat from
the bones, shred the meat, and return it to the pot. Discard bones.
15. Continue cooking on Keep Warm until the chicken is reheated throughout.
16. To serve, place about ¼ cup rice into the bottom of a bowl or cup and ladle 1 cup gumbo over the top.
Taste and add Tabasco sauce if desired.
Chicken & Sausage Gumbo
Reviewed by
Unknown
on
January 27, 2018
Rating: