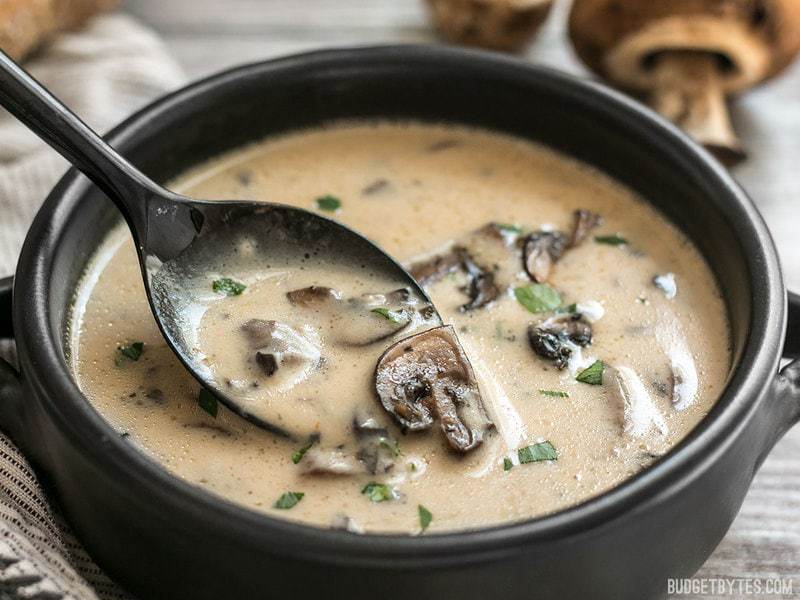 INGREDIENTS
4 tablespoons butter
2 shallots, finely minced
1 pound sliced mushrooms
4 cups chicken broth
1 cup water
3 tablespoons fresh tarragon leaves, or 1 teaspoon dried tarragon
1 tablespoon fresh thyme leaves, or ¼ teaspoon ground thyme
1 teaspoon salt
½ teaspoon ground black pepper
¼ cup instant mashed potato flakes
¼ cup heavy cream
1. Place pressure cooker on a level surface, insert pressure pan, and plug in the unit.
2. Set Cook Time to 15 minutes and press Start.
3. Add butter; when melted, add shallots and mushrooms and gently sauté until tender and lightly
browned. Add chicken broth, water, tarragon, thyme, salt, and pepper.
4. Attach lid and set the regulator valve to Air Tight (closed).
5. When cooking time has elapsed, press Cancel to stop the Keep Warm function. Wait 10 minutes before
releasing any remaining pressure.
6. Turn the pressure cooker to Keep Warm. Stir in potato flakes. Using an immersion blender directly in
the pressure pot, process the mushrooms until you reach your preferred consistency, chunky to smooth.
7. Adjust seasonings as needed and add cream. Heat until mixture is just warmed throughout. Do not boil!
Cream of Mushroom Soup
Reviewed by
Unknown
on
January 27, 2018
Rating: