Recipe For Instant Moru Curry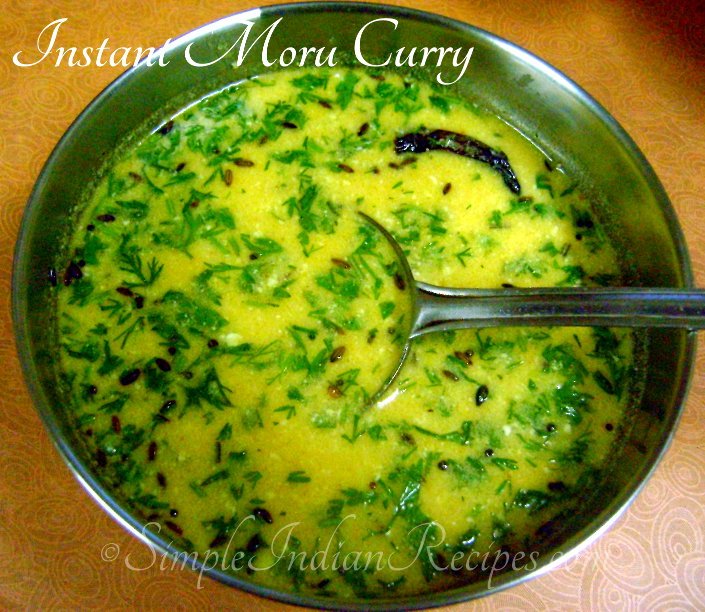 Ingredients
Vegetable of choice - 1/2 cup (You could use any vegetable like cucumber, pumpkin, raw banana, okra, yam etc. Here I have used 1/2 cup of chopped elephant foot yam)
Red Chili Powder - 1/4 tsp
Black Pepper Powder - 1/4 tsp
Rice powder - 1 tsp
Salt - to taste
Yogurt - 1/2 cup
Sugar or jaggery - 1/2 tsp
Asafoetida - a pinch
Chopped green coriander leaves - for garnishing
For Seasoning
Oil - 1 tsp
Mustard seeds - 1 tsp
Fenugreek Seeds - 1/4 tsp
Cumin Seeds - 1/4 tsp
Dry Red Chili - 1
Curry Leaves - 1 sprig
Method
Cook the yam or any vegetable of your choice in a vessel by adding salt, turmeric powder, chilli powder and black pepper powder.
Add the rice powder in 2 tbsp water mix well and add to the cooked vegetables.
When it comes to boil, add the jaggery and cook till it dissolves.
Then add the beaten curd. Mix well and switch off the gas.
Season with the ingredients mentioned under seasoning.
Garnish with coriander leaves. Moru curry is ready to be served.
Variation
You can also use chundakkai, manathakali or anyother vattals instead of vegetables.
Serving Suggestion
Serve hot with steamed rice, kichadi or chapatti. This simple curry tastes really good.
Instant Moru Curry
Reviewed by
Unknown
on
January 18, 2018
Rating: