BEEF STROGANOFF WITH POTATOES & SALAD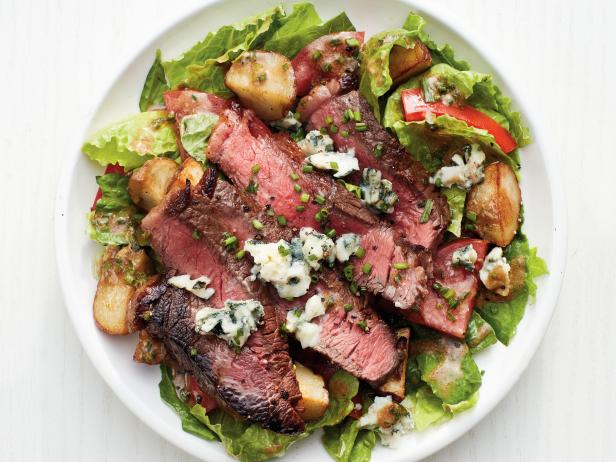 If you haven't made beef Stroganoff before, it's a hearty stew of thinly sliced beef steak, onions, mushrooms and sour cream. Although its origins go back to the 19th century Russia, this recipe is cooked around the world, with variations from kitchen to kitchen. It's usually served over pasta/egg noddles but is also common with rice and potatoes.
For those avoiding starchy carbs or wheat, this gorgeous stew is great over zucchini noodles, cauliflower rice or wth some steamed greens on the side. This is a good recipe to make ahead of time. Store in the fridge for up to 3 days or in the freezer until the night before when you need to defrost it (up to 2 months).
Beef
: This recipe works best with more tender cuts of beef, which require little cooking time. We used rump steak in this recipe, which is more affordable and very juicy. For an even more budget friendly version, use less meat and add more mushrooms, onions, peas and sometimes even potatoes or carrots.
Dairy-fre
e: Omit the cream but feel free to add a couple of tablespoons of coconut cream instead. Thicken with tapioca flour or arrowroot as per the recipe.
Thickening the stew
: We are only using 1 cup of beef stock, which might not seem enough, but the mushrooms will release quite a bit of liquid during cooking. The sour cream will thicken the stew slightly, however, we also dissolve a tablespoon of tapioca flour or arrowroot flour right at the end. If gluten is not an issue, you can also add regular flour to thicken the stew. Corn starch and rice flour are also ok.
• 1 tablespoon coconut oil or butter
• 1 large brown onion, quartered and sliced thinly
• ½ teaspoon sea salt
• 1.1 lb / 500 g beef rump steak, sliced into thin strips (cut away any hard fat)
• 0.5 lb / 200 g Brown or Swiss button mushrooms (regular white button mushrooms are fine)
• Handful of dried porcini mushrooms (optional)
• 3 cloves garlic, finely diced
• 1 tablespoon tomato paste
• 1 tablespoon Dijon mustard (yellow mustard is also okay)
• 1 bay leaf (optional) • Generous pinch of black pepper
• 1 cup beef stock
• 1 tablespoon tapioca flour or arrowroot flour (corn or rice flour are also okay)
• 1/3 cup sour cream or crème fraîche
• ½ cup garden fresh peas (if using frozen, defrost under hot water first)
• 2 tablespoons chopped flat-leaf parsley
• Our side: 3 large potatoes, cubed and boiled till tender and a mixed salad
SERVES 4
• Press the Sauté key on the Instant Pot (it should say Normal, 30 mins). Add coconut oil and once hot, add the onion and salt and cook for 2 minutes, stirring a few times.
• Add the beef strips and stir together for 2 minutes, until the colour of the meat changes.
• Add the mushrooms, garlic, tomato paste, mustard, bay leaf and beef stock and stir through to combine. Cancel the Sauté function by pressing Keep Warm/Cancel button.
• Place and lock the lid, make sure the steam-releasing handle is pointing to Sealing. Press Manual (High Pressure) and adjust to 10 minutes. After 3 beeps the pressure cooker will start going. In the meantime, boil the potatoes and prepare the salad.
• Once the timer goes off, allow the pressure to release naturally for 2-3 minutes and then use the quick release method before opening the lid.
• Press Sauté key again. Scoop some of the stew liquid into a small cup and dissolve the tapioca flour in it (or other starch that you're using). Add back to the stew and stir through, which will thicken the liquid slightly. Add the sour cream/crème fraîche and peas and stir through for a minute.
• Finally add the parsley, stir and serve with potatoes, rice or pasta, or over some steamed vegetables.
BEEF STROGANOFF WITH POTATOES & SALAD
Reviewed by
Unknown
on
April 03, 2018
Rating: